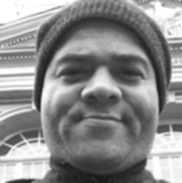 Tim Fielder
---
Tim Fielder is an Illustrator, concept designer, cartoonist, and animator born in Tupelo, Mississippi, and raised in Clarksdale, Mississippi.
He has a lifelong love of Visual Afrofutuism, Pulp entertainment, and action films. He holds other Afrofuturists such as Samuel R Delany, Octavia Butler, Pedro Bell, and Overton Lloyd as major influences.
Tim has worked over the years in the storyboarding, film visual development, gaming, comics, and animation industries for clients as varied as Marvel Comics ('Dr Dre: Man With A Cold Cold Heart'), The Village Voice, Tri-Star Pictures ('The Mothership Connection'), to Ubisoft Entertainment ('Batman: Vengeance).
He is known for his graphic novel Matty's Rocket and his TEDx Talk and BLACK ENTERPRISE interview on the subject of Afrofuturism.
His projects, Matty's Rocket, INFINITUM, Black Metropolis and High John Conqueror are graphic stories from his company Dieselfunk Studios.
Most recently, his work was showcased in a career retrospective exhibition at The Hammonds House Museum. The show was titled Black Metropolis: 30 Years of Afrofuturism, Comics, Music, Animation, Decapitated Chickens, Heroes, Villains, and Negroes. Very soon Tim will be devoting time the the book variant of Black Metropolis which will be his Memoirs.
---
from timfielder.com
---