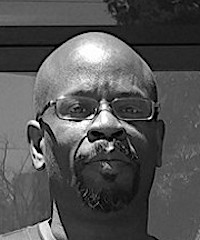 Thaddeus Howze
---
Thaddeus Howze is an award-winning writer, editor, podcaster and activist creating speculative fiction, scientific, political and cultural commentary from his office in Hayward, California.
Thaddeus' speculative fiction has appeared in numerous anthologies and literary journals. He has published two books, 'Hayward's Reach' (2011), a collection of short stories and 'Broken Glass' (2013) an urban fantasy novella starring his favorite paranormal investigator, Clifford Engram. He is also the creator of a series of articles called Writing Craft: Mastering the Urge to Write.
Thaddeus works as a writer and editor for two magazines, the Good Men Project, a men's magazine challenging social norms for men in modern society. He also writes for Krypton Radio, a media station and online magazine, writing articles on popular culture, science, technology and superheroes. He has also appeared in numerous publications including Black Enterprise, Gizmodo, Huffington Post, Polygon, Panel and Frame and the BBC.
Thaddeus supports his vision of writing-as-a-lifestyle working as the Vice President of the California Writers Club, focusing on writing advocacy and support for new talent. He is one of the founding members of the Afrosurreal Writers Workshop in Oakland. He was also a Teaching Fellow at Chapter 510: Department of Make Believe (2019-2020) teaching young writers how to create spectacular speculative fiction.
---
from thowze.carrd.co
---