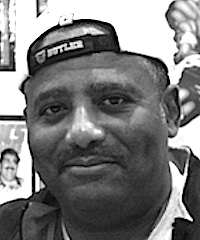 Robert Roach
---
Robert Roach is a Los Angeles based illustrator, comic artist & publisher.
He's also the winner of the first ever Glyph "Rising Star" Award for excellence in independent publishing for his work on the noir crime mini-series The Roach. Comics blogger, Mike Hamersky, called The Roach's mini-series the best in 2009 -- including the "2 majors" & all "mid-majors."
His other flagship property Menthu hasn't been a slouch by comparison. The initial 4-part arc of this present-day story based on Egyptian mythology set in Los Angeles received a 3.5 out of 4 Stars Review from Comic Buyer's Guide magazine.
Robert has worked more than two decades as an illustrator/storyboard artist for films, videos, animated projects & TV commercials. He's worked numerous "industry" jobs, including a 2-year stint in Warner Bros.' Management Trainee Program. As a part-time instructor, Robert teaches storyboarding, quick sketch techniques & other subjects at L.A.'s Otis College of Art & Design.
Lastly, his fluency in Japanese has also led to various jobs, including translating for film executives (Sucker Punch), for Stranger Comics/Unified Pictures (Vampire Hunter D), at Otis' Jikei Program, various events &, occasionally, at New York Film Academy (NYFA).
---
from operative.net
---