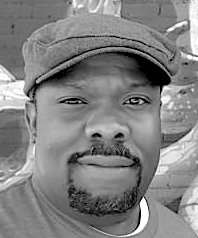 Robert Love
---
Robert Love is a co-founder of Gettosake Entertainment with his brothers, Jeremy, and Maurice in 1998, publishing their signature character CHOCOLATE THUNDER.
In 2004, Dark Horse published FIERCE, written by Jeremy Love with art by Robert Love, followed by SHADOW ROCK in February of 2007.
He also has an upcoming DARK HORSE PRESENTS comic called NUMBER 13. Robert's stories "The Blind Monkey Style" and "The Mad Mauler" appeared in POPGUN Volumes 1 and 4 respectively. Outside of comics, he sold the rights to a movie to 20th Century Fox called THE ADVENTURES OF VENUS KINCAID and has also optioned several other projects with Cartoon Network and the Disney Channel.
---
from Afrocomiccon.org
---