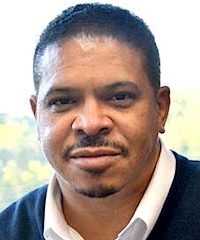 The Rev. Dr. Matthew V. Johnson
---
Dr. Matthew V. Johnson, Sr., is a graduate of Morehouse College and earned his Masters and Ph.D. degrees in Philosophical Theology from the University of Chicago.
He has done post-graduate studies in Psychoanalysis and is a member in training at the Institute of Contemporary Psychotherapy and Psychoanalysis. In the ministry for thirty years, Dr. Johnson is the Pastor of Church of the Good Shepherd-Baptist located in Atlanta, GA. In the course of a thirty year ministerial and pastoral career, he served three ministries in Greensboro, NC. He was pastor of United Institutional Baptist Church in Greensboro, NC and was Founder and Pastor of Manasseh Baptist Church. Dr. Johnson is currently teaching at the InterDenominational Theological Center in Atlanta.
He is the author of three major theological works. They include, "The Tragic Vision of African American Religion", an analysis of African American religious subjectivity and understanding of the religious experience and its theological implications. "The Passion of the Lord: African American Reflections" a book which presents the biblical, historical, and theological roots of African American views, and, mostly recently "Onesimus Our Brother" examining the letter which contains so many of our unconscious assumptions about religion, race, and culture.
As a novelist in the tone and tradition of Zora Neal Hurston, his first novel, "The Cicada's Song" adds to a rich treasure of African-American literature.
---
from Soul Afire
---