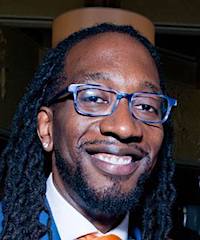 Rev. Dr. Jay Williams
---
Rev. Dr. Jay Williams returned to Union as lead pastor on July 1, 2018, having guided this congregation September 2012 – June 2017.
An ordained Elder in The United Methodist Church, Jay has served congregations in New York City, Boston, and San Francisco, including Glide Memorial.
Williams holds a Master of Divinity with highest honors from Union Theological Seminary in the City of New York (2009) and the Bachelor of Arts magna cum laude from Harvard College (2003). In May 2017, Jay received the Ph.D. in the Study of Religion from the Harvard University Graduate School of Arts and Sciences. Dr. Williams's work explores the meaning of "Spirit" in black cultural discourse at the intersection of race, class, gender, and sexuality: particularly how spirit-talk has been a marginalizing language of power. The dissertation, entitled "Unholy Ghosts in the Age of Spirit: Identity, Intersectionality, and the Theological Horizons of Black Progress," develops a constructive theology of spirit that rethinks hope, courage, and vitality, premised on insights from W.E.B. Du Bois, Zora Neale Hurston, and Howard Thurman. Through his pastoral and academic work, Jay strives to help more disinherited folk find their voices.
---
from unionboston.org
---