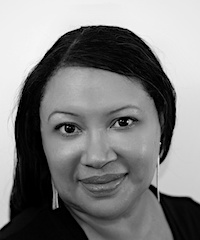 Rebecca Roanhorse
---
Rebecca Roanhorse is an American science fiction and fantasy writer from New Mexico.
She has written short stories and science fiction novels featuring Navajo characters. Her work received Hugo and Nebula awards, among others.
Roanhorse told The New York Times that she initially worked on "Tolkien knockoffs about white farm boys going on journeys", because she figured that is what readers wanted.
On August 19, 2020, Roanhorse was announced as a contributing writer to Marvel Comics' Marvel's Voices: Indigenous Voices #1 anthology, which released in November 2020. She wrote a story about Echo, joined by Weshoyot Alvitre on art.
---
from Wikipedia
---