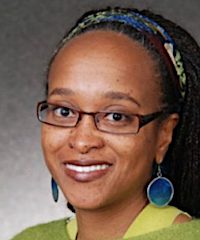 Rachel E. Harding
---
Rachel Elizabeth Harding, is a native of Georgia, a writer, historian and poet.
Rachel is a specialist in religions of the Afro-Atlantic diaspora and studies the relationship between religion, creativity and social justice activism in cross-cultural perspective. A Cave Canem Fellow, she holds an MFA in creative writing from Brown University and a PhD in history from the University of Colorado Boulder. Dr. Harding is author of A Refuge in Thunder: Candomblé and Alternative Spaces of Blackness (Indiana University Press, 2000) as well as numerous poems and essays. Rachel's second book, Remnants: A Memoir of Spirit, Activism and Mothering (Duke University Press, 2015), combines her own writings with those of her mother, Rosemarie Freeney Harding, on the role of compassion and spirituality in African American social justice organizing.
Dr. Harding is chairperson of the coordinating committee for the African Diaspora Religions Group of the American Academy of Religion and is a member of the editorial boards of Saberes em Perspectiva (Brazil) and the Journal of Africana Religions. She regularly organizes study-tours to Brazil with an emphasis on Afro-Brazilian history, culture and ritual practice.
Rachel Harding is Associate Professor of Indigenous Spiritual Traditions in the Department of Ethnic Studies at the University of Colorado Denver.
---
from ucdenver.edu
---