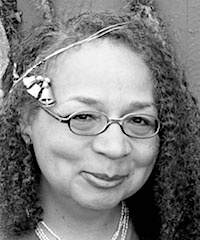 Nisi Shawl
---
Nisi Shawl (born 1955) is an African-American writer, editor, and journalist.
They are best known as an author of science fiction and fantasy short stories who writes and teaches about how fantastic fiction might reflect real-world diversity of gender, sexual orientation, race, colonialism, physical ability, age, and other sociocultural factors.
Shawl has edited several anthologies of speculative fiction, especially collections of Afrofuturist, feminist/LGBT, and African-American sf/fantasy short stories, including recent homages to pioneering black/queer sf novelists Samuel R. Delany and Octavia E. Butler: Stories for Chip: A Tribute to Samuel R. Delany (2015), co-edited with Bill Campbell, and Strange Matings: Science Fiction, Feminism, African American Voices, and Octavia E. Butler (2015), co-edited by Rebecca J. Holden. Shawl's anthology work has been part of their longtime participation within both the feminist and the African-American sf writing communities, evidenced in their editing of WisCon Chronicles Vol. 5: Writing and Racial Identity (2011, generated from America's most venerable feminist sf convention); as well as in their stories' publication within women sf writers' literary experiments, such as Talking Back: Epistolary Fantasies (2006, by feminist sf publisher Aqueduct Press) and within African-American speculative fiction collections, notably the groundbreaking Dark Matter: A Century of Speculative Fiction from the African Diaspora (2000).
---
from Wikipedia
---