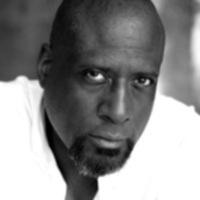 Kevin Grevioux
---
Kevin Grevioux is an American actor, screenwriter, and comic book writer.
He is best known for his role as Raze in the Underworld film series, which he co-created, as well as his voicework in the cartoon Young Justice as the villain Black Beetle.
As an actor, he has been seen in such films as The Mask, Steel, Congo, Tim Burton's Planet of the Apes remake, and the 2003 vampire vs. werewolf film, Underworld.
Underworld was Grevioux's first produced writing credit. He came up with the original concept/premise and wrote the original screenplay along with director Len Wiseman, launching the Underworld franchise. He appears in the film himself as a lycan, Raze, and returned as the character in the Underworld prequel Underworld: Rise of the Lycans, which he will also be adapting into a comic book mini-series. He has also expressed an interest in telling more Underworld stories in comic form if this proves successful.
---
from Wikipedia
---