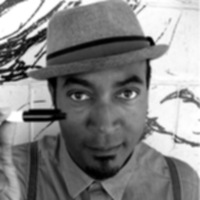 Keith Knight
---
Keith Edgar Knight Jr. is an American cartoonist and musician known for his comic strips The K Chronicles, (Th)ink, and The Knight Life.
While his work is humorous and universal in appeal, he also often deals with political, social, and racial issues. Woke, a television series based on his work, debuted in 2020.
Knight's regular feature The K Chronicles, launched in the early 1990s, appears in various outlets, including Daily Kos, and previously appeared in the San Francisco Examiner, while (th)ink is published on several newspapers and websites, especially African-American sites. A syndicated daily strip, The Knight Life, was launched in 2008. Knight is also the artist for two strips appearing in Mad: Father O'Flannity's Hot Tub Confessions and Bully Baby.
In the March 14, 2012, strip of The K Chronicles, Knight announced he was working on a graphic novel about his brief (1984–1985) career as a professional Michael Jackson impersonator. The book will be entitled I Was a Teenage Michael Jackson Impersonator.
Knight also appeared in The Marginal Prophets, a hip-hop band.
Knight has become a public speaker, with comic strip slideshows addressing racial illiteracy, police brutality and the role it has played since the early years of the United States.
In November 2018 it was announced that Hulu would be producing a half-hour sitcom, titled Woke, based on The K Chronicles and events from Knight's life. The show is co-written by Knight; actor Lamorne Morris plays Knight. Woke debuted on September 9, 2020. On November 17, 2020, Hulu renewed the series for a second season.
---
from Wikipedia
---