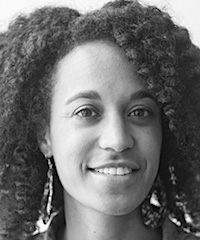 Jewels Smith
---
Juliana "Jewels" Smith is a writer, cultural worker, and educator.
She earned her B.A. in Sociology from UC Riverside and M.A. in Ethnic Studies at UC San Diego. As an educator in community colleges Smith decided she could reach more of her students through an unorthodox medium, a comic book. She created (H)afrocentric as a way to challenge students and readers alike about the presumptions around race, class, gender and sexuality through character dialogue. Smith was honored at the African American Library and Museum of Oakland with the first annual Excellence in Comics and Graphic Novels Award. In 2016, she received the Glyph Award for Best Writer on (H)afrocentric Volume 4.
She has given talks about the relationship between using comics to address racial justice, gender equity, political literacy, and humor at the Schomburg Center, New York Comic Con, Studio Museum of Harlem, Baltimore Book Festival and The Cooper Union. Her practice focuses on the links between racial justice, gender equity, and political literacy.
---
from hafrocentric
---