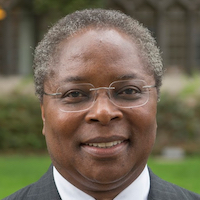 Dwight N. Hopkins
Alexander Campbell Professor of Theology -- University of Chicago
---
Professor Hopkins is a constructive theologian working in the areas of contemporary models of theology, various forms of liberation theologies, and East-West cross-cultural comparisons and social entrepreneurship.
Professor Hopkins is interested in multidisciplinary approaches to the academic study of religious thought, especially cultural, political, economic, and interpretive methods.
Professor Hopkins initiated and managed a 14-country network, whose work focused on the challenge of the lack of cultural understanding in international transactions of business, politics, and religions. The research indicators revealed that a higher vision and transcendent values glue the global together spiritually with wealth management.
He was Visiting Professor at Renmin (People's) University, Beijing, China. (Course on "The History of Western Civilization") and Visiting Lecturer at Dongbei University of Finance and Economics, Surrey International Institute, Dalian, China (ten lectures on "China and the West: Cross Cultural Communication").
---
from University of Chicago
---