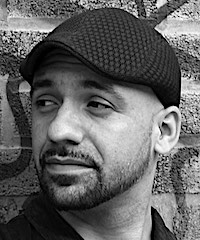 Daniel José Older
---
Daniel José Older is an American fantasy and young adult fiction writer.
Older's career as a writer began in 2014, in the back of the ambulance where he worked as an EMT in New York City. Older has said that he sees himself as an outsider to the publishing and literary scene. Describing himself as a disruptor.
Older's formal writing foray onto the writing scene came with Salsa Nocturna, in 2012. A collection of stories from the living, the dead, and those in between, Salsa Nocturna serves as an introduction to key characters from his first series, Bone Street Rumba.
Older's debut novel, Half-Resurrection Blues, was published by Penguin Books in the first week of 2015. By the end of January 2015, the production company owned by Anika Noni Rose had optioned the television and films rights to the novel and the following two novels in the Bone Street Rumba series.
In 2018 Older released his first Star Wars novel Last Shot, which serves as a tie-in to Solo: A Star Wars Story. It stars Han Solo and Lando Calrissian and takes place between Return of the Jedi and The Force Awakens with flashback settings before and after Solo.
---
from Wikipedia
---