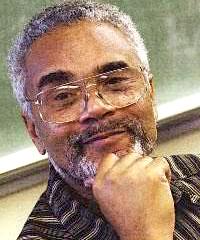 Clayborne Carson
Martin Luther King, Jr. Centennial Professor Emeritus and director of the Martin Luther King, Jr., Research and Education Institute -- Stanford University
---
Clayborne Carson is the Martin Luther King, Jr. Centennial Professor Emeritus at Stanford University, and director of the Martin Luther King, Jr., Research and Education Institute.
Since 1985 he has directed the Martin Luther King Papers Project, a long-term project to edit and publish the papers of Martin Luther King Jr.
Clayborne Carson has been a professor at Stanford University for over forty years, where he primarily teaches U.S History and African American History. Carson has taught and lectured in Britain, France, China, South Africa, Zimbabwe, Tanzania, and throughout the United States. He teaches and lectures about Martin Luther King, Malcolm X, the Student Nonviolent Coordinating Committee (SNCC), the Black Panther Party, and other subjects related to the black struggle and civil rights. He has been a frequent guest on Pacifica Radio station KPFA in Berkeley, California, and has also appeared on programs like NPR's Fresh Air, the Tavis Smiley Show, the Charlie Rose Show, Good Morning America, and the CBS Evening News. Carson is a member of the global council of the California International Law Center at the University of California, Davis School of Law. Carson is also a member of several professional organizations including: the American Historical Association (AHA), the Organization of American Historians (OAH), the Social Science History Association (SSAH), the Association for the Study of Afro-American Life and History (ASAALH), and the Southern Historical Association.
Carson has also written several books and articles regarding the Civil Rights Movement, and has made contributions to many more as well as documentaries, and interviews. His first book In Struggle: and the Black Awakening of the 1960s was awarded the Fredrick Jackson Turner Award in 1982. Carson was also the Historical Adviser for the film "Freedom on My Mind", which in 1995 was nominated for an Oscar.
In 1985, Coretta Scott King asked Carson to lead a Project in Publishing Dr. Kings previously unpublished works. In an interview conducted in 2008, Carson explains that he initially declined to work as Senior Editor to Dr. Kings works, Carson had "never really thought of [himself] as a King biographer. [He] was a SNCC person", he said referencing the discord between SNCC and Dr. King that occurred during the movement. Carson eventually agreed to oversee the project mentioning that he would not have accepted the job if the family held control over Dr. Kings works. Carson and his staff has spent over 20 years working to edit and publish Dr. Kings works.
On April 3, 2018, Clayborne Carson, as the director of the MLK Research and Education Institute, hosted a screening of a documentary that he helped create called I'm MLK, Jr. After the screening he hosted an additional event celebrating the 50th anniversary of Martin Luther King Jr.'s last speech, "I've Been to the Mountaintop".
---
from Wikipedia
---