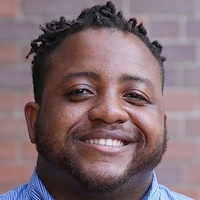 Brandon Wilks
Advisor -- SIDGE
---
Brandon is a skilled strategy and organizational development consulting professional with a passion for researching, scaling and implementing best practices that improve both the bottom line and welfare of stakeholders.
He partners with clients on strategic and operational transformations to achieve ambitious missions and realize long-term sustainable impact.
He has assessed traditional social sector practices with a racial equity lens and has co-led research into community-driven grant making in order to identify alternative vehicles for philanthropists to transfer decision making power around resource allocation to community leaders and institutions.
He is experienced in co-creating strategies alongside clients and supporting the implementation of operational solutions to align organizational culture, leadership behavior, strategic communications and work processes to those strategies.
---
from Brandon Wilks
---