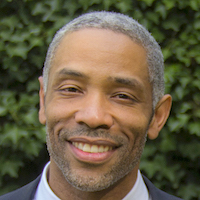 Aaron Grizzell
Executive Director -- NorcalMLK Foundation
---
Aaron Grizzell is the executive director of the Northern California Dr. Martin Luther King, Jr. Community Foundation (NorcalMLK Foundation). The foundation is dedicated to helping unlock the promise in every person by promoting social, economic, and environmental justice; supporting health, wellness, and preparedness; and increasing the joys of learning.
Since 2010, he has headed the foundation, which was originally founded in 1985 by the late Coretta Scott King to serve as the official organization in northern California to honor her husband's, Dr. Martin Luther King, Jr., newly established federal holiday. He served on the executive committee of the original organization for over ten years prior to becoming executive director of the foundation. He is co-founder of the King & Faith Series that engages the scholarly and faith communities in contemporary contemplation of Dr. King's message, and legacy. The series' Ethics, Religion, and Climate Change Roundtable was one of the official programs of the California governor's Global Climate Action Summit in 2018. He also co-founded the Black & Brown Comix Arts Festival (BCAF), a comic book, animation, and popular culture expo that celebrates artists of color. In 2015 USA Today readers and editors selected BCAF as one of America's ten best art festivals. Both BCAF and the King & Faith Series are programs of the NorcalMLK Foundation.
Mr. Grizzell's experience spans over 25 years in civic and social justice, public policy, and economic development. He was a principal at Qronis Consulting, a real estate development and management consulting firm, and he was the founding administrator of the Tabernacle Community Development Corporation, a non-profit real estate and community development organization with over $150 Million in built and planned affordable housing units in San Francisco. He also co-founded PecanTV, a digital mobile media platform that curates, produces, and distributes premium, original animation and programming for black and brown audiences. He currently serves as president of the board of directors of Yerba Buena Arts & Events in San Francisco and is a member of the board of directors of the Yerba Buena Gardens Conservancy. He also serves on the executive board of the Sustainability 360 Initiative of the Graduate Theological Union in Berkeley California and is a past member of San Francisco's Local Homeless Coordinating Board.
As a published writer, his works include philosophical examinations of Dr. King, Howard Thurman, and Mohandas K. Gandhi, as well as the speculative philosophy and the philosophical theology of Immanuel Kant. Mr. Grizzell holds a Bachelor of Science degree in political science and international political economy from Idaho State University, with a Master of Arts degree, with honors, from the Graduate Theological Union. And, he is currently completing his Ph.D. in history and cultural studies of religion from the U.C. Berkeley affiliated Graduate Theological Union.
Mr. Grizzell is a member of the American Academy of Religion, and currently serves as a member of the Arts of Interpretation Group of the academy. He is happily married to Colette Rodgers-Grizzell and is the father of one adult daughter and the grandfather of one.
---