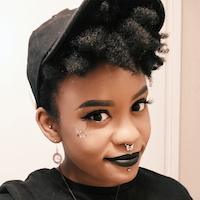 Steenz Stewart
---
Christina "Steenz" Stewart is an American cartoonist and editor known for illustrating Archival Quality and currently authoring and illustrating the daily comic strip Heart of the City.
She was born September 29, 1990, in Detroit, Michigan, and currently resides in St. Louis, Missouri. Upon taking over Heart of the City from Mark Tatulli in May 2020, she became only one of three nationally syndicated Black female cartoonists, alongside Bianca Xunise and Barbara Brandon-Croft.
Following Star Clipper's closing in 2015, Steenz went on to work as an editor at Lion Forge Comics, where she worked on the first 12 issues of the comics and tabletop gaming magazine Rolled and Told until 2019.
Steenz contributed the short comic "The Update" along with letterer Melanie Ujimori to editor Taneka Stotts' Eisner- and Ignatz-winning Elements: Fire, and has also appeared in the anthologies Mine!, and Dead Beats.
Her first major publication was Archival Quality, which she co-created with writer Ivy Noelle Weir. It was published by Oni Press in 2018.
Steenz took over writing and illustrating Heart of the City for Mark Tatulli. Her first strip syndicated via Andrews McMeel appeared on May 24, 2020.
On May 12, 2020, it was announced that Steenz would be illustrating and co-creating a graphic novel about the history of tabletop RPGs alongside writer Samuel Sattin; the book is estimated for a 2023 release date.
---
from Wikipedia
---