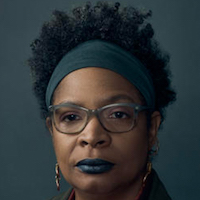 Nalo Hopkinson
---
Nalo Hopkinson is a Jamaican-born Canadian speculative fiction writer and editor.
Since 2013, she has lived and taught in Riverside, California. Her novels (Brown Girl in the Ring, Midnight Robber, The Salt Roads, The New Moon's Arms) and short stories such as those in her collection Skin Folk often draw on Caribbean history and language, and its traditions of oral and written storytelling.
Hopkinson has edited two fiction anthologies (Whispers From the Cotton Tree Root: Caribbean Fabulist Fiction and Mojo: Conjure Stories). She was the co-editor with Uppinder Mehan for the anthology So Long Been Dreaming: Postcolonial Visions of the Future, and with Geoff Ryman for Tesseracts 9.
Hopkinson defended George Elliott Clarke's novel Whylah Falls on the CBC's Canada Reads 2002. She was the curator of Six Impossible Things, an audio series of Canadian fantastical fiction on CBC Radio One.
In 2020, Hopkinson was named the 37th Damon Knight Grand Master.
---
from Wikipedia
---