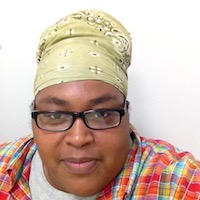 Avy Jetter
---
Avy Jetter (born December 11, 1968) is an American writer, artist, and activist who is best known for her self-published comic series Nuthin' Good Ever Happens at 4 a.m.
Jetter also works as a Special Programs & International Affiliates Coordinator at University of California, Berkeley.
etter began her postsecondary education at the California College of Arts, but after a short time transferred to Fisk University in Nashville, Tennessee. After two semesters, Jetter returned to CCA where she completed her Bachelor of Fine Arts in painting in 1994. Jetter began her comic career in early 2012 as a response to seeing her friend's webcomic. Her artistic creativity was inspired by the comics her four older brothers created when she was a child, as well as Mildred D. Tayler, Walter Dean Myers, and Morrie Turner. Currently, Jetter is independently published because she enjoys the creative freedom producing work outside of the traditional publishing realm allows and prioritizes the face to face experience of meeting those that support her comics and zines.
---
from Wikipedia
---